Now Thats What I Call Music 29 (US Retail) 2008 On Label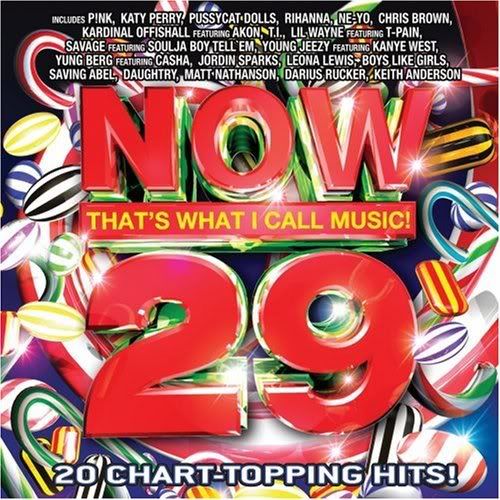 BECOME VIP MEMBER TODAY - GET ACCES INSTANTLY - JOIN US
Click
here
to become a Vip Member.
BECOME VIP MEMBER TODAY - GET ACCES INSTANTLY - JOIN US
Click
here
to become a Vip Member.
Artist : VA
Album : Now Thats What I Call Music 29
Bitrate : VBR 186 kbps avg.
Label : Universal SONY Zomba
Year : 2008
Genre : Pop
Store date : Nov-11-2008
Size : 109,3 MB
Playtime : 76:33 min
Release Note
2008 release, the latest in this long-running series of Pop compilations. This is the most up-to-date compilation on the market, containing the absolute hottest songs on the planet including certified hits, songs currently scaling the charts and sizzling radio smashes. This, the 29th installment in the series, features 20 tracks including cuts from Pink, T.I., Lil' Wayne, Leona Lewis, Kardinal Offishall, Rihanna, Pussycat Dolls and many others. Why listen to yesterday's songs when you can live in the here and NOW!
Track list
01 - Pink - So What 03:34
02 - Katy Perry - Hot N Cold 03:39
03 - Pussycat Dolls - When I Grow Up 03:54
04 - Rihanna - Disturbia 03:56
05 - Ne-Yo - Closer 03:54
06 - Chris Brown - Forever 04:36
07 - Kardinal Offishall feat. Akon - Dangerous 03:51
08 - T.I. - Whatever You Like 03:40
09 - Lil Wayne feat. T-Pain - Got Money 04:05
10 - Savage feat. Soulja Boy Tell Em - Swing 03:38
11 - Young Jeezy feat. Kanye West - Put On 04:18
12 - Yung Berg feat. Casha - The Business 03:51
13 - Jordin Sparks - One Step At A Time 03:25
14 - Leona Lewis - Better In Time 03:54
15 - Boys Like Girls - Thunder 03:57
16 - Saving Abel - Addicted 03:42
17 - Daughtry - What About Now 04:09
18 - Matt Nathanson - Come On Get Higher 03:32
19 - Darius Rucker - Don't Think I Don't Think About It 03:02
20 - Keith Anderson - I Still Miss You 03:56
[/hide]
Download Link
[hide]
Dear Guest to download ! you need to click on the banner below and wait 5 seconds
(no working? register first and after revisit this page)

Please enter your email address on which we can send the Vip access data after the purchasing:
To Leave A Comment Please Register First